Royal National Orthopaedic Hospital Training College, Stanmore (1937)
In May 2021, after the launch of our new website with its historical content about the practice, we were approached by the consulting archivist to the Royal National Orthopaedic Hospital who was researching a complex of buildings at the Stanmore site which formed the "Crippled Boys Training College".   Although we were aware of the project in Bolsover Street for the RNOH and some post-war design, the extent of Richard Mountford Pigott's pre-war work at Stanmore wasn't known to us.
With many images kindly provided by the Estates Department we now understand that Mountford Pigott was referred to as "their Stanmore architect" in Cholmeley's 1984 published history of the hospital.  In addition to finding a number of contemporary drawings of Eastgate House (a nurses' home) and the Zachary Merton Ward (a convalescent home) evidence from the archives now conclusively identifies Murrell & Pigott as the architects for the "Crippled Boys Training College" at  the Stanmore site .  The complex of buildings includes living accommodation for 100  in all-male dormitories, workshops, communal spaces including a quiet room and recreation room and a concert hall.   The College was opened in 1937 and there is a fascinating article about it in the July 1937 edition of the British Medical Journal.  In the article, the author marvels at the modified bathing facilities and the step-free access in the single-storey complex. The language and terminology in this 1937 piece is painfully of its time but it does clearly convey the many aspects of this pioneering accessible development in its ideals and its physical form.
It seems astonishing to the contemporary reader that step-free access was a novelty in a building specifically designed for the disabled as recently as 1937.  The drawings and photographs of the complex look much like a 1930s residential training establishment and show just how slight the adaptations needed to be to achieve accessibility with careful consideration of the site and what must have been the College's mission to avoid institutionalisation and to provide opportunities for disabled young men.
It is with great pride that we discovered our founders' involvement with this pioneering accessible project and we look forward to learning more about it from archive records.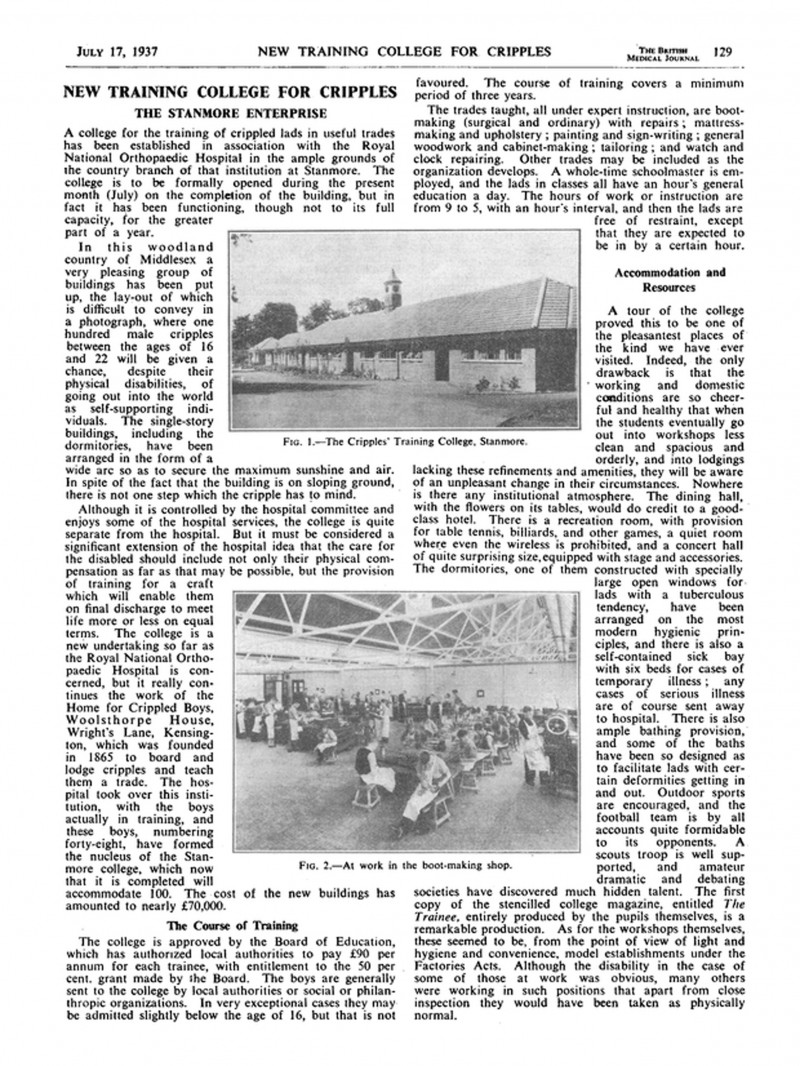 Article from the British Medical Journal 1937