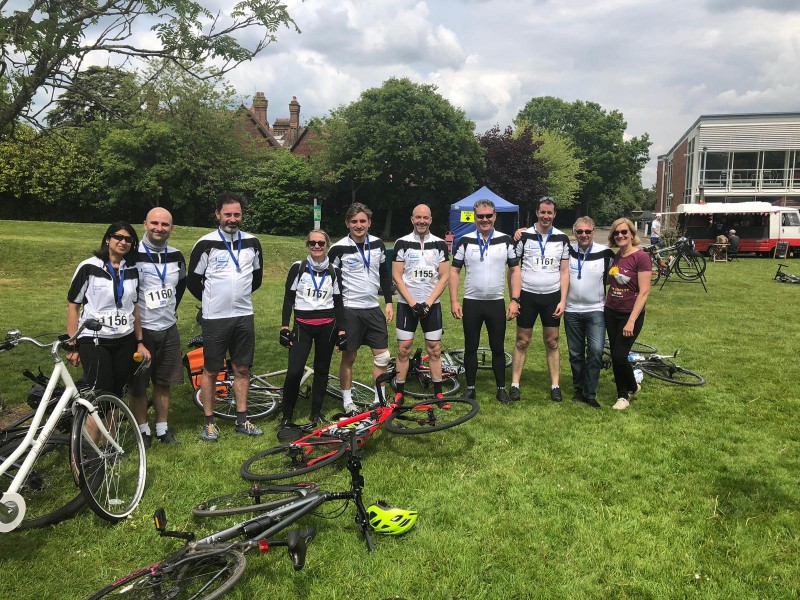 At Mountford Pigott we see ourselves as members of a number of different communities. Our office is geographically located in New Malden and we're members of a local community here, however, we also see ourselves as part of a wider architectural and construction professional community and our staff and their families also have their own special community interests.
We try to focus our charitable and well-being activities on causes which are relevant to our interests and events which are local, get lots of participation and promote well-being as well as fundraising.
Up until recently we have supported different charities for bake sales and endurance events and consequently it has been hard for people to see exactly where their money and efforts are going. So in order to make a bigger and more meaningful contribution to a charity and give staff a chance to find out a bit more about the work that they do and have a greater appreciation for the contribution that we're making we are supporting one charity for a whole year.
This year we have partnered with the London Air Ambulance Charity and despite lockdown staff have participated in a variety of different events and fundraising challenges on their behalf.
Policies and Events
Environmental Policy Statement
General Statement
The Partners and management of Mountford Pigott LLP recognise the impact that our day to day operations may potentially have on the environment.  We aim to protect and where possible improve the environment through good management and by adopting best practice where possible.  We will work to integrate environmental considerations into our business decisions and continue to adopt greener alternatives where possible.
In Our Workplace
We are committed to providing a quality service in a manner that ensures a safe and healthy workplace for our employees, visitors and minimises our potential impact on the environment.  We will operate in compliance with all relevant environmental legislation and we will strive to use pollution prevention and environmental best practices in all we do.  This will be reviewed where appropriate and new targets and objectives set accordingly.
The practice will:
Bring this Environmental Policy Statement to the attention of all stakeholders implement and maintain our environmental management system in compliance with ISO14001:2015
Identify and manage environmental risks
Correct non-conformities
Integrate the consideration of environmental concerns and impacts into all of our decision making and activities
Where required by legislation or where significant health, safety or environmental hazards exist, develop and maintain appropriate emergency response programmes
Strive to continually improve our environmental performance and minimise the social impact and damage of activities by periodically reviewing our environmental policy in light of our current and planned future activities
Promote environmental awareness among our employees and encourage them to work in an environmentally responsible manner, such as by working electronically  wherever it is safe and secure to do so while ensuring that all key information is fully and securely backed up
Reduce waste through re-use and recycling and by purchasing recycled, recyclable or refurbished equipment, products and materials where these alternatives are available, economical and suitable
Ensure that all waste paper generated by the office is responsibly recycled through our long term contracts with New Leaf recycling and Veolia
Ensure responsible disposal of remaining unavoidable waste
Promote efficient use of space heating/lighting, equipment, materials and resources including water, electricity, raw materials and other resources, particularly those that are non-renewable
Purchase and use environmentally responsible products accordingly
Include energy efficiency as one of the selection criteria when purchasing new equipment
Ensure that all non-essential IT equipment is turned off out of hours
Avoid unnecessary use of hazardous materials and products, seek substitutions when feasible, and take all reasonable steps to protect human health and the environment when such materials must be used, stored and disposed of
Use public transport in preference to travel by car wherever it is possible and effective to do so
Actively promote alternative modes of transport, through sponsorship for cycle purchase and provision of office shower facilities
Our Design Work
We recognise that the products of our designs will have far more environmental impact than our own operations therefore we are further committed to exercising our professional skills in such a way to minimise environment impact in so far as this is possible within the instructions received from our clients.  This will be reviewed where appropriate and new targets and objectives may be set accordingly.
We are committed:
to raise the awareness of clients about sustainability and environmental protection, and in particular the desirability of achieving high BREEAM ratings
to help the members of the design team to develop a shared vision of environmental aspirations
encourage the early engagement of sustainability / M&E consultants
to ensure as far as possible that building projects are supported by a travel plan that promotes sustainable travel choices through public transport and cycling provision
to assess sites for their ecological value and microclimate, and ensure buildings make best use of the natural features of the site including sun, wind and landscape
to ascertain the potential for local power generation from renewable energy sources locally or on site
to ensure that biodiversity is protected or enhanced
to make best use of orientation and shape to reduce the need for artificial forms of conditioning
to operate a 'right-first-time' culture (through our QM system) for our production information in order to avoid wasteful site reworking
to minimise the use of construction materials, and specify materials and components with the optimum balance between environmental impact and performance in use
to ensure that building services are inherently efficient and controllable, and that metering encourages monitoring and management of resource use
to ensure that buildings are commissioned fully before handover, and that full operating manuals are provided
This Environmental Policy will be reviewed annually and revised as necessary to reflect changes to the business activities and any changes to legislation, with any changes being brought to the attention of all stakeholders.
All employees are expected to co-operate and assist in the implementation of this policy, whilst ensuring that their own work, so far as practicable, is carried out without risk to themselves, others or the environment, including co-operating with the practice management on any environment-related matter.  This Policy Statement and accompanying documentation is made available to all staff and forms part of all new staff inductions.
Mountford Pigott 101 Initiative - Keep Britain Tidy along the River Wandle in Merton
As part of the Mountford Pigott 101 Initiative to volunteer over a hundred worktime hours of social value service our staff volunteered to pick litter along the banks of the River Wandle in Merton this morning supported by the London Borough of Merton Council and the Keep Britain Tidy! campaign.  Well done to all who took part – you picked a fine day for it!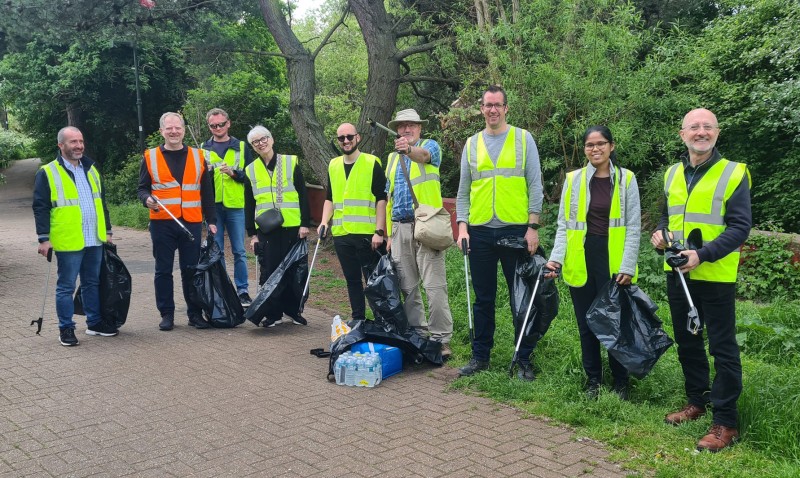 Futurebuild 2023
Mountford Pigott are attending Futurebuild 2023 at the London ExCel Centre today
MPLLP Bowling Evening
A great evening out in Kingston with some very unique bowling skills or rather rolling skills.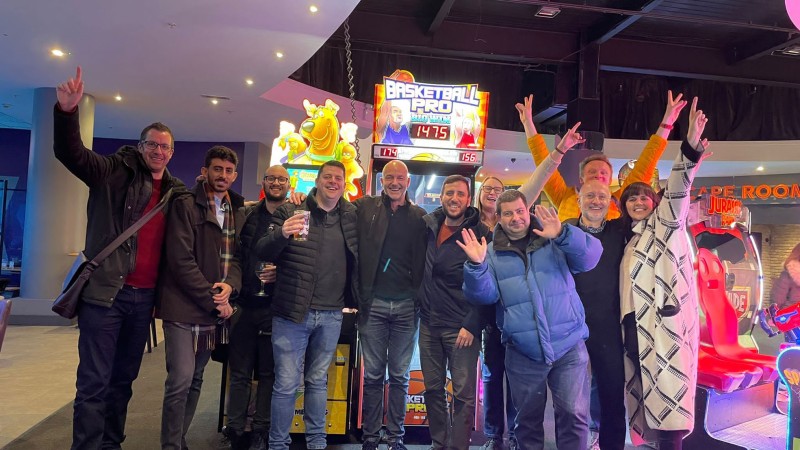 St George's Hospital Charity
Raising funds for a very worthy charity
Christmas Party 2022
Our Christmas party was held at The Harts Boatyard in Surbiton this year.
Movember 2022
Our Movember fundraising campaign this year for the Lymphoma Fund at St George's Hospital was a huge success and culminated in a darts & 80's arcade game evening. Thanks to all those who took part raising money for this essential charity.
The good, the bad and the ugly
Mudathon 2022
Well done to Team Mountford Pigott (Michael, David T, Greg and Grant) for completing a gruelling 5km ,…..felt like 7km, course climbing over and crawling through over 100 mud and water obstacles. A great event held by Paragon in aid of Small Steps and The Brain Tumour Charities.
Miles for Missions
Team MPLLP took part in the Miles for Missions Challenge for London Air Ambulance Charity which started on the 15th  June and ended on Monday 20th September. The challenge required each team member to either walk, run or cycle 116 miles over the 3 month period …………. well we kind of smashed that!!!!
Our total distance covered was 2740 miles (London to Tehran) over the 3 months which equates to 318 hrs of exercise and 17,061m in elevation gain (which is the beginning of the Ozone layer!!)
Well done to all those who took part with some impressive mileage from Pawel, Alla, Michael, Liza and Walterio.
London Air Ambulance Charity Helipad Abseil 2021
Well done to Anna and David who completed their abseil down the face of The Royal London Hospital in Whitechapel which is 17 storeys tall!!  Thank you to everyone for your donations which has taken the total funds raised to £1900.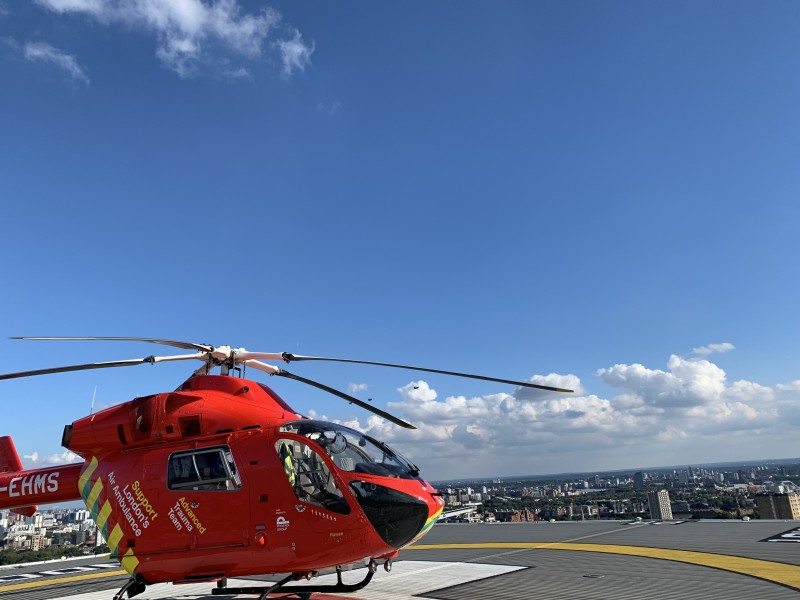 Mountford Pigott Club 500
Well done to all our staff members who participated in our challenge to reach 500 hours of exercise during the month of March. The 19 participants managed to achieve a total 334 individual activities equating to 203 hours of exercise, an average of 21 minutes per person every day. All funds raised will be going to London Air Ambulance Charity.
Mountford Pigott Club 500
During the month of March Mountford Pigott are attempting to achieve a total of 500 hours of exercise for charity. This could include a daily walk, a workout, a run, a ride or a yoga session. More to follow…….
RideLondon100 2020
Well done to Team MPLLP who completed the Surrey loop of the RideLondon100 yesterday in aid of London Air Ambulance though the Surrey Hills covering 100km. Thank you for everyone's donations.
World Food Buffet Lunch, March 2020
The Mountford Pigott World Food Buffet Lunch event was a great success. We raised £300 for our charity partner London Air Ambulance which will help to support this vital service.